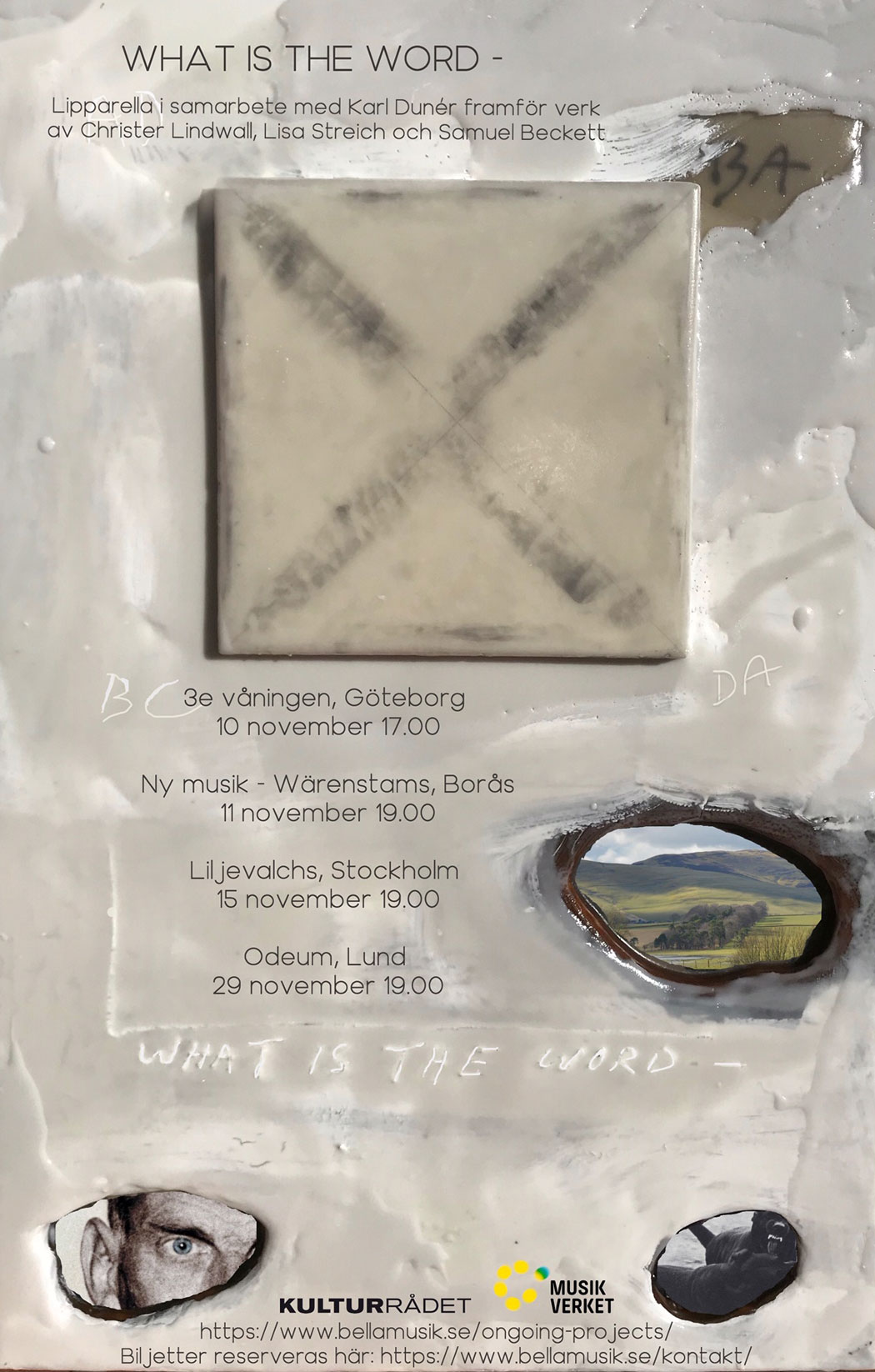 What is the word
Pågående projekt
Lipparella i samarbete med Karl Dunér framför verk av Christer Lindwall, Lisa Streich och Samuel Beckett
konserter
3e våningen, Göteborg
10 november 17:00
Ny musik – Wärenstams, Borås
11 november 19:00
Liljevalchs, Stockholm
15 november 19:00
Odeum, Lund
29 november 19:00
Beställa biljetter
Lipparella: Ny CD med Kent Olofsson - Champs d'étoiles
Läs recensionerna:
Länk till skivan:
Das Orchester was founded in 1999 as the result of a staging of a theatre play based on the book "Prayer for Chernobyl" by the Belarusian writer Svetlana Aleksijevich. The unusual constellation, presenting no existing repertoire, viewed its first public appearance at this occasion, as cellist Chrichan Larson wrote music to be performed during the play. The exploration of the heterogeneous mystery of this chamber trio has proved to be an exciting enticement, challenging numerous composers, with whom the group has collaborated through the years, thus giving birth to a solid repertoire base. So far, the ensemble has performed throughout Scandinavia, in Germany and in France. Two records have been released on Blue Music Group, the most recent revealing new facets of expression in collaboration with the soprano Alexandra Büchel. Read More
Pågående projekt för 2019-20
Under 2019 genomför Lipparella ett nytt samarbetsprojekt med regissören Karl Dunér. Det kommer att resultera i en föreställning kring Samuel Becketts texter, med bland annat nykomponerad musik av Christer Lindwall.